With the 2023 Halliday Wine Companion results just released we are thrilled to maintain our 5 Red Star underlined status. This means we are considered an outstanding winery regularly producing wines of exemplary quality and typicity. The red underline means we have a long track record of excellence, having held a 5-star rating continuously for 10 years or more. According to the Wine Companion we are truly the best of the best!
This year we were proud to have our 2021 Single Vineyard Semillon to receive a 2023 Top Rated Semillon award by the Halliday team.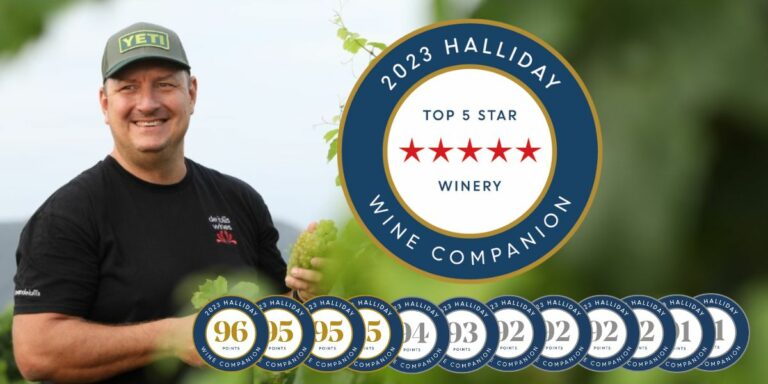 ---
The De Iuliis family acquired a property at Lovedale in '86 and planted 18ha of vines in '90, selling the grapes from the first few vintages to Tyrrell's but retaining increasing amounts for release under the De Iuliis label. In '99 the land on Broke Road was purchased and a winery and cellar door were built prior to the '00 vintage. In '11 De Iuliis purchased 12ha of the long-established Steven vineyard in Pokolbin. Winemaker Michael De Iuliis completed postgraduate studies in oenology at the Roseworthy campus of the University of Adelaide and was a Len Evans Tutorial scholar. He has lifted the quality of the wines into the highest echelon. – James Halliday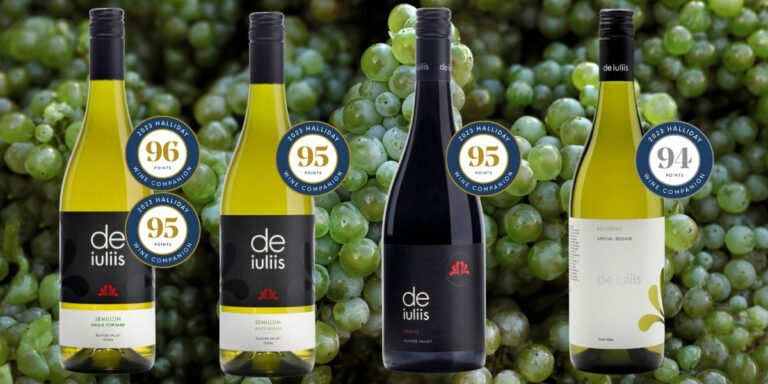 2023 Top Rated Semillon by the Halliday team
96 Points
The Garden vineyard is planted on the sandy flats of central Pokolbin, the grapes hand picked on Jan '22, and whole-bunch pressed to tank for a slow cool ferment. It's a glorious Semillon, unusually expressive for its age, both opulently rich and fruit-complex with Tahitian lime and Meyer lemon, backed by touches of nectarine.
James Halliday
DRINK: 2022-2036
95 Points
This address' aged releases are always impressive. This, no exception. Candied barley and ginger. Lanolin, lemon drop and quince. Brioche, too. The finish is not one marked by the precision and effortless flow of top years. Yet I like the mesh of phenolic texture and moderate freshness, perhaps as much. This makes for excellent versatility at the table. Delicious wine.
Ned Goodwin
DRINK: 2021-2026
95 Points
This has the makings of a real keeper. Austere. Demure. Yet the skein of extract that runs toe to toe with the fine line of acidity, is impressive. It makes one wonder what lies behind it all. Only time will tell. Raw ginger, spa salts, jasmine and gin and tonic, the current notes. Await the crescendo!
Ned Goodwin
DRINK: 2021-2033
95 Points
A sumptuous interpretation of a warm year. Lots of extract, complemented by oak that, while still unresolved, should find its place in time. Blue and black fruits. A core of raspberry liqueur. Spice, sassafras and Hunter earth, driving long. Bury this and believe.
Ned Goodwin
DRINK: 2021-2033
94 Points
A variety from the Marche and Abruzzo regions of central Italy, the first such planted in the Hunter Valley. The dried herb and citrus-skin aromas are striking, and carry onto the palate without missing a beat. It has a similar in-your-face power to fiano, in each case increasing their textural allure – and shouting for food matches.
Ned Goodwin
DRINK: 2021-2026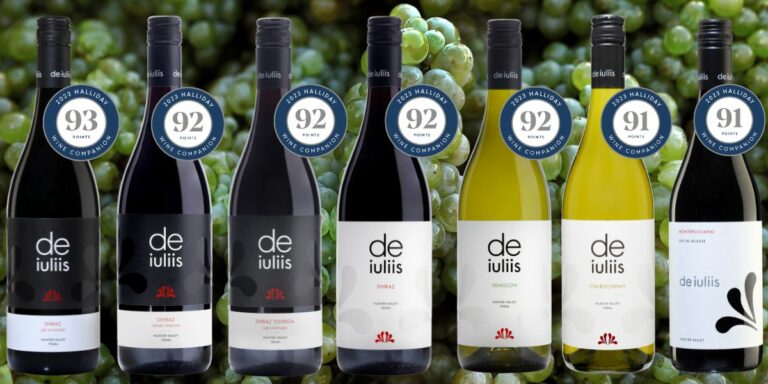 2020 LDR Vineyard Shiraz
93 Points
One of the finest 2020 reds from this producer yet tasted. I have to really suck this across the mouth to detect the drying nature of the year. Plenty of joy, here: dried nori, tinderbox, pulpy blue fruits and very well-massaged tannins. Good drinking. Best on the earlier side, but there is depth and a 'je ne sais quoi' seriousness about this, that belies the year's challenges.
Ned Goodwin
DRINK: 2021-2026
92 Points
It would be tough to beat this as a proprietary first cab off the rank. Scents of icy pole, ginger shavings, lemongrass, raw almond and lemon zest rolled into the lightweight, crunchy mould of regional typicity. Good now, better in 5 years.
Ned Goodwin
DRINK: 2021-2026
2020 LDR Vineyard Shiraz Touriga
92 Points
This is excellent. Brilliant under the circumstances, but forget about those. In a moment when we all seek succour in deliciousness, this is the ticket. A delicious wine, in any case. Violet. Pulpy red and blue fruits. Real vibrato, serviced by touriga's juicy acid kit. A swab of licorice and oodles of blue fruits. Chill, relish and placate the tannins with some terrine.
Ned Goodwin
DRINK: 2021-2023
92 Points
Arguably even better – more refined, fragrant and delicate – than its LDR sibling. The score, the same, by virtue of each wine's sheer drinkability. Tamarind, clove, Moroccan souk aromas of tea, incense and spiced ginger, muddled with succulent red fruit accents teeming long. Very well done.
Ned Goodwin
DRINK: 2021-2026
91 Points
A perfect entry point to Hunter chardonnay: taut, but flavourful. Expansive, but linear. The bright clang of stone and tropical fruit accents driven long by juicy acidity. Well-appointed oak, the signpost.
Ned Goodwin
DRINK: 2021-2022
2021 Special Release Montepulciano
91 Points
A variety that bodes well for a future that is likely to lack what we are accustomed to. Late ripening, far from thirsty and ferrous of structural lattice. This, presumably from nascent vines, is a gently extracted pulpy taste. Blueberry, clove and a sash of spice. Effusive energy and delicious drinking.
Ned Goodwin
DRINK: 2021-2022