With the 2024 Halliday Wine Companion results just released we are thrilled to maintain our 5 Red Star underlined status. This means we are considered an outstanding winery regularly producing wines of exemplary quality and typicity. The red underline means we have a long track record of excellence, having held a 5-star rating continuously for 10 years or more. According to the Wine Companion we are truly the best of the best!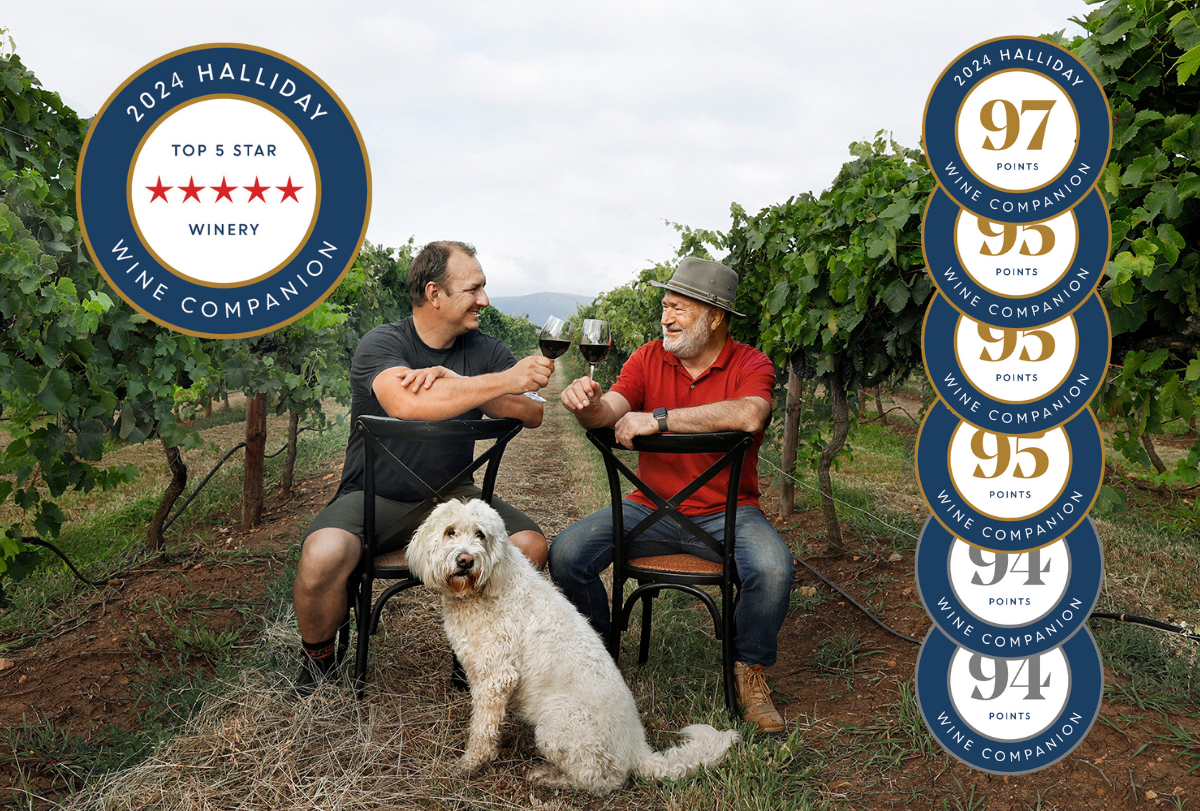 ---
The De Iuliis family acquired a property at Lovedale in '86 and planted 18ha of vines in '90, selling the grapes from the first few vintages to Tyrrell's but retaining increasing amounts for release under the De Iuliis label. In '99 the land on Broke Road was purchased and a winery and cellar door were built prior to the '00 vintage. In '11 De Iuliis purchased 12ha of the long-established Steven vineyard in Pokolbin. Winemaker Michael De Iuliis completed postgraduate studies in oenology at the Roseworthy campus of the University of Adelaide and was a Len Evans Tutorial scholar. He has lifted the quality of the wines into the highest echelon. – James Halliday
2021 Cabernet Sauvignon
97 Points
Mike De Iuliis is understandably enraptured by the 'pristine' fruit of a wine that's a 'fantastic expression of cabernet' with an 'exceptionally fine tannin structure.' He ran out of space to praise the glorious colour the wine has. It's one of those all-too-rare cabernets to be drinking well now, but with an outlook as long as you wish. Gorgeous bargain.
James Halliday
DRINK: 2023-2043
2017 Aged Release LDR Vineyard Shiraz
95 Points
2017 was the first of a trio of top-quality shiraz vintages in the Hunter Valley. This wine's colour, bouquet and palate all say the same thing: it is full-bodied, rich, complex and moderately tannic. The balance, line and length are exemplary, but it demands no fewer than five more years, and will still be on an upwards trajectory in 25 years to come.
James Halliday
DRINK: 2021-2026
2021 Limited Release Chardonnay
95 Points 
This is a best barrel selection. Much lighter on its feet than the '22 standard release: lovely juicy mid-palate; good line, length and balance, as the late Len Evans might have said. 250 dozen produced, and each bottle numbered.
James Halliday
DRINK: 2023-2029
2022 Single Vineyard Garden Semillon
95 Points
From the celebrated Garden vineyard; hand picked, whole-bunch pressed to tank before a slow, cool fermentation. Always comes up trumps, with the full range of lemon citrus, lanolin and acidity just so. It's not sacrilegious to drink it now, but do keep a few bottles for five or so years.
JAMES HALLIDAY
2023-2032
2022 Special Release Shiraz Pinot
94 Points
The Hunter Valley provided the shiraz, Tumbarumba the pinot noir. The blend was made after each component had been finalised. Its light colour is clear and star-bright, so don't think the wine lacks flavour or aroma, seemingly emanating from the pinot noir, cherry ex the shiraz.
James Halliday
DRINK: 2021-203